Soapstone Countertops, Sinks and Tiles. Canada's Greensville Soapstone Company
Soapstone countertops, sinks and tiles from Greensville Soapstone Company, showroom located in Burlington, Ontario but supplying soapstone products to all of Canada.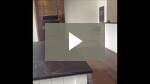 Notice
Special Sunday Hours
We are open Sunday Aug 23, 30 and September 6 by appointment only and will resume regular Sunday hours after Labor Day weekend. Saturday hours remain the same.